Mold Inspection San Antonio TX, Testing, Removal & Remediation
---
Mold spores are a big problem for homeowners. It can grow anywhere in the house which has a plumbing leak, poor ventilation, and high humidity. If left for quite a while, mold spores will eventually spread to different areas and damage house structures. Not only are molds a danger to your house, they also pose health risks for all occupants.
When you notice the presence of molds, you already need to make a move before things get worse for your house and your family. We are the leading mold inspection and testing company in San Antonio.
Mold Assessment & Testing San Antonio TX
Are you worried that your house is in danger of molds? Then, the first thing you need to do is to assess and test your house for mold.
How Do I Get My House Tested For Mold?
There are several ways to get your house tested for mold:
There are several ways to get your home tested for mold, including:
Hiring a professional inspector: A certified mold inspector will use specialized equipment and techniques to assess the presence of mold in your home.
Doing a visual inspection: You can look for visible signs of mold, such as discoloration on walls, musty odors, and water stains.
Using do-it-yourself test kits: These kits are available at most hardware stores and allow you to collect and analyze samples of suspected mold growth.
Taking air or surface samples: You can collect air or surface samples and send them to a laboratory for analysis. This will determine the type and concentration of mold present in your home.
It is recommended to hire a professional inspector as they have the necessary equipment and expertise to properly identify and test for mold in your home.
Mold test kits. There are several problems with mold test kits:
Accuracy: The accuracy of mold test kits can vary widely, and some kits may produce false positive or false negative results.
Limitations: Mold test kits have limitations in detecting all types of mold and determining the extent of mold growth in a property.
Interpreting Results: Interpreting the results of a mold test can be challenging and requires expertise, as it is not always clear what the results mean or how to address mold problems.
Professional Testing: Some mold problems may be too complex or widespread to be detected by a DIY mold test kit and may require professional testing and inspection.
In conclusion, while mold test kits can be a useful tool, it's recommended to consult a professional if you suspect a mold problem in your property to get a more accurate and comprehensive assessment.
Multiple mold tests. There are three types of mold tests: air testing, surface testing, and bulk testing. The amount of mold spores can change from time to time so it is better to test different parts of your home.
Professional mold testing. The best way to get your house tested for molds is to avail the services of professional mold inspectors. Hiring experts will definitely give you more accurate results.
If you could not see any visible signs but you think that there are hidden mold growth, a thorough inspection will be helpful.
texas-san-antonio-skyscrapers-of-san-antonio
Contact Us
---
Catstrong Mold Inspection of San Antonio
A+ Rated
24/7 Emergency service
Immediate Response
5 Star Reviews
Locally Owned and Operated
We bill directly to insurance
Commitment to customer service
We Offer Environmental Consultant Services San Antonio:
Mold Inspection
Mold Remediation
Mold Removal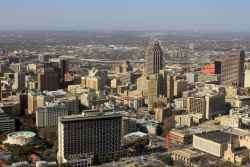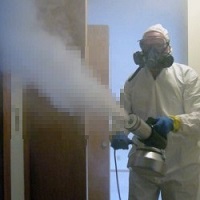 Mold Expert? Licensed Mold Inspectors
Catstrong LLC is composed of mold inspectors licensed by the Texas Department of State Health Services to do the following services in San Antonio:
Mold inspection
Mold remediation
Mold removal
Say goodbye to mold worries for San Antonio homeowners. Catstrong offers excellent mold inspection, testing, and remediation services for a mold-free home. Our professional team is equipped with both knowledge and expertise to enhance indoor air quality, resulting in a healthier and cleaner household.
If you are looking for a professional and customer service oriented mold testing and inspection comapny call Catstrong today at (210) 981-3365 to arrange a visit or ask any questions about mold inspection and removal.
Mold Inspection & Removal Costs
Mold inspection and removal is a must for a home that is threatened by various harmful mold. But how much do you need to pay for these services?
How Much Does Mold Removal Cost?
Mold removal costs will depend on the following factors:
Type of mold
Area where mold is located
Size of the area affected by mold
Cause of mold
Type of mold removal procedure
There is no exact number for mold removal cost but for a small, contained area such as crawlspaces, it will cost about $500. But for larger areas, it usually costs $2,000 and above.
When several areas of the house are badly damaged, it will need complicated mold removal procedures which might cost around $15,000 to $20,000. This already includes any repairs or replacements that will be needed after the mold removal.
There are several factors that can impact the cost of a mold inspection:
Location: The cost of mold inspection services can vary depending on the location and the availability of inspectors in the area.
Size of the property: The size of the property being inspected can also affect the cost of the inspection. Larger properties generally require more time and resources to inspect, leading to a higher cost.
Type of inspection: The cost of the inspection may also depend on the type of inspection being performed, such as a basic inspection or a more comprehensive inspection.
Complexity of the inspection: The complexity of the inspection can also affect the cost. For example, a property with a high degree of mold contamination or with multiple sources of moisture may require a more complex and time-consuming inspection.
Equipment: The cost of the inspection may also be influenced by the type and cost of the equipment used. For example, the use of thermal imaging cameras or other specialized equipment can increase the cost of the inspection.
Experience of the inspector: The experience and qualifications of the inspector can also play a role in determining the cost of the inspection. An inspector with more experience and training may charge a higher fee.
Type of test (air sampling, surface sampling)
Size of the area to be tested
How Much Does A Mold Inspection Cost?
The cost of having a mold inspection in your house depends on the following factors:
Mold inspections can cost between $500 to $600 for small and medium-sized houses, while it can cost between $800 to $1600 for larger houses.
If there is already visible mold growth, it will lower the costs unlike when inspections are done in the drywall.
What are situations that warrant mold testing?
---
Do home examinations check for mold?
If you have the home skillfully checked prior to you buy it, your house assessor may see noticeable indications of mold or water damage. While it's not the assessor's work to search for mold, most home assessors will discuss noticeable indicators of water damages as well as the feasible existence of mold.
Is there a mold detection tool?
The House Mold And Mildew Laborator Viable Mold and mildew Examination Set offers accurate outcomes. You can use this package to identify unsafe growth nests like black mold, but it can not identify bacteria or fungus. There are 3 different screening methods you can make use of.
Just how do they examine for mold?
Look for outdoors leaks. If mold and mildew is growing on an outside wall or ceiling, very first try to find a leakage in the wall surface or roof covering as a test for mold. Action from the musty location to a referral point like a door, then find the place on the other side of the wall or ceiling.
When should you perform a tasting for mold?
Mold And Mildew Examining or Testing. Is tasting for mold and mildew required? If noticeable mold growth is present, tasting is unneeded. Given that no EPA or various other federal restrictions have actually been set for mold or mold and mildew spores, sampling can not be used to check a structure's compliance with federal mold and mildew requirements.
How Do You Know If You Have A Mold Problem?
To know if your house is having a mold problem, check out the following signs:
There is a strange smell.The presence of mold cannot be seen at all times and one of the signs that it is present is by its musty smell.
Mold growths.Homeowners usually ignore small mold growths which should be removed as soon as possible. Always be on the lookout for furry, dark growths, or black, green, and specks.
Allergic reactions.A house with mold might trigger allergic reactions to its inhabitants such as watery eyes, runny nose, sneezing, coughing, and nasal congestion.
Paint bubbling, cracking, or peeling.Molds are caused by moisture and if you notice your paint bubbling, cracking, or peeling, it means that there is moisture inside the walls. Moisture can be a result of humidity or a plumbing leak.
Soft spots in the hardwood floor.Similar to paint, if a hardwood floor feels squishy, there is a chance that there is moisture underneath. If it goes unnoticed, the flooring will rot and spread.
Is Mold Covered By Homeowners Insurance?
It depends on the circumstances and the specific policy. In general, mold damage caused by sudden and accidental events such as a burst pipe or severe storm may be covered by homeowners insurance. However, mold that is the result of gradual water damage, poor maintenance, or a known issue may not be covered. It is best to check with your insurance provider for a clear understanding of your policy's coverage for mold damage.
Mold is covered by your homeowners insurance provided that the mold growth is caused by a "covered peril". These are some examples of a covered peril:
Sudden or accidental damages e.g. burst pipes
Fire or lightning
Theft
Vandalism or malicious mischief
Damaged caused by vehicles
Weight of ice or snow
Damage from electrical currents
Frozen or overflowing of water from heating, air conditioners, or sprinkler systems
Mold is not covered by homeowners insurance if it is caused by a preventable leak, flood, or high humidity. However, if you have a flood insurance policy, mold is part of its coverage.
How Do You Know If Mold Is Behind Drywall?
Water damage is the main cause of mold growth. Busted pipes will leak into the drywall and trap moisture in it which will cause mold growth especially if not treated early. If left untreated, the damage will likely spread to a greater part of the house. It will also damage the air quality inside the home and will result to health risks for the occupants.
Here are some things you need to look out when determining if there is mold behind the drywall:
Water stains. A great way to spot mold growth is to look for water stains, especially if there is a plumbing leak. Sometimes, these water stains are damp because of moisture and can be yellow or brown in color.
Paint discoloration. If you notice that there areas in your wall which are discolored, usually changing to black, brown, grey, or green, there is a high chance that there is mold behind the walls.
Surface deterioration. If the wall paint is peeling, cracking, or bubbling, there might be mold growth due to the moisture inside the walls.
Musty smell. Since mold growths are not spotted easily, the most common sign of it is its odor.
Learn more about at the following
Mold
Mold or mould, also sometimes referred to as mildew, is a fungal growth that develops on wet materials. Mold is a natural part of the environment and plays an important part in nature by breaking down dead organic matter such as fallen leaves and dead trees; indoors, mold growth should be avoided.
Mold inspection is, for the most part, a visual inspection of a house. … A typical mold inspection involves the inspector talking to the property owner about any areas where they have seen mold, or where there have been moisture problems or water damage in the past.
Cleanup and removal methods
The purpose of cleanup is to eliminate mold and remove contaminated materials. Killing mold with a biocide is insufficient, since chemicals and proteins causing reactions in humans remain in dead mold. The following methods are used.
Evaluation: Before remediation, the area is assessed to ensure safety, clean up the entire moldy area, and properly approach the mold. The EPA provides the following instructions:
HVAC cleaning: Should be done by a trained professional.
Protective clothing: Includes a half- or full-face respirator mask. Goggles with a half-face respirator mask prevent mold spores from reaching the mucous membranes of the eyes. Disposable hazmat coveralls are available to keep out particles down to one micrometer, and protective suits keep mold spores from entering skin cuts. Gloves are made of rubber, nitrile, polyurethane, or neoprene.
Dry brushing or agitation device: Wire brushing or sanding is used when microbial growth can be seen on solid wood surfaces such as framing or underlayment (the subfloor).
Dry-ice blasting: Removes mold from wood and cement; however, this process may spray mold and its byproducts into surrounding air.
Wet vacuum: Wet vacuuming is used on wet materials, and this method is one of those approved by the EPA.
Damp wipe: Removal of mold from non-porous surfaces by wiping or scrubbing with water and a detergent and drying quickly.
HEPA (high-efficiency particulate air) vacuum: Used in remediation areas after materials have been dried and contaminated materials removed; collected debris and dust is stored to prevent debris release.
Debris disposal: Sealed in the remediation area, debris is usually discarded with ordinary construction waste.
San Antonio
, officially the City of San Antonio, is the seventh-most populous city in the United States, and the second-most populous city in both Texas and the Southern United States, with 1,547,253 residents in 2022. Founded as a Spanish mission and colonial outpost in 1718, the city became the first chartered civil settlement in present-day Texas in 1731. The area was still part of the Spanish Empire, and later of the Mexican Republic. It is the state's oldest municipality, having celebrated its 300th anniversary on May 1, 2018. The city's deep history is contrasted with its rapid growth over the past few decades. It was the fastest-growing of the top ten largest cities in the United States from 2000 to 2010, and the second from 1990 to 2000. Straddling the regional divide between South and Central Texas,
San Antonio
anchors the southwestern corner of an urban megaregion colloquially known as the Texas Triangle. The Greater San Antonio and Greater Austin areas are separated from each other by approximately 80 miles along Interstate 35. Both metropolitan regions are expected to form a new metroplex similar to Dallas and Fort Worth.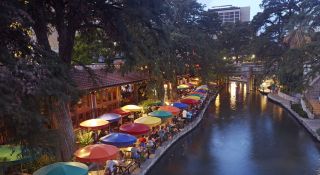 ---